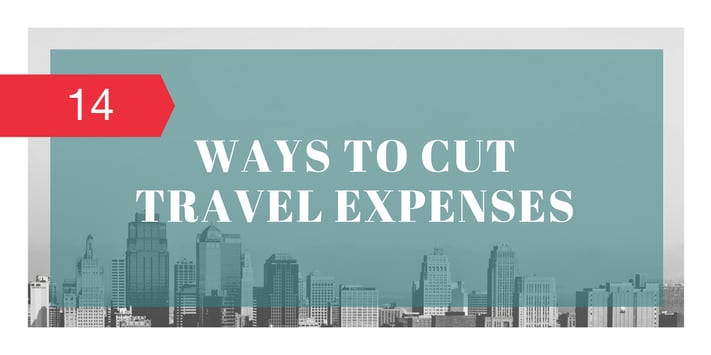 1. Find the perfect location in less than 3 seconds
Finding the right location for your hotel in a new city can be very challenging, expensive and frustrating with so many options. If you are travelling for leisure or business there is a pretty amazing tool that will save you a ton of time before and during your trip.
What it is even better is that this tool uses Big Data to analyse what other people have said, so there are no biased recommendations. To be more precise, they have gathered data about hostels, hotels, and homestays covering 13,000 cities, over 1 million accommodations and 37 million reviews, averaging about 3,000 reviews per city. Now that's BIG data!
Without further ado this is the tool here.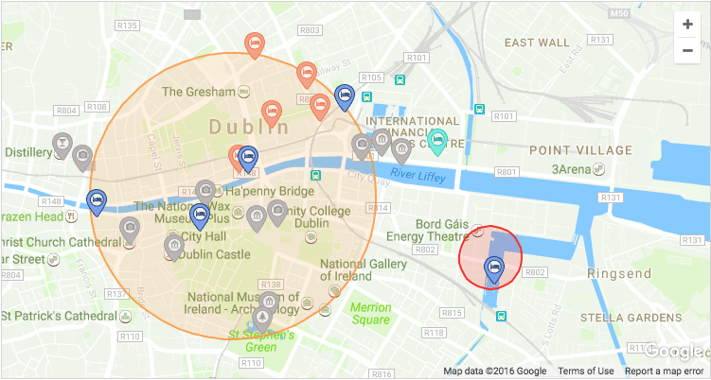 I tried it using Dublin as an example and here's the results. Pretty impressive don't you think?
2. Booking Cheaper Flights Online
The Myths
Ever heard the one about using incognito/private mode will cloak your presence on a flight website? Because prices get artificially bloated every time we go back and check flights, right? We've all heard that one. Something about cookies tracking your behaviour, the flights, dates and destinations you're tracking. That kind of thing.
Well, as it turns out, that's pure rubbish.
A thread on Reddit by a UI designer for a large online travel agent exposed this
"Cookiesgate".
"Sure, you'll "bucket" yourself into different tests by using different browsers and their incognito/private modes. But these buckets are for testing UI changes, technology optimizations, and features requested by business owners to increase conversion. Not upping prices, because that would be shooting themselves in the foot if it was ever found out. And it would, since our research suggests people search 8-10 times on different sites."
The Truth
Want to know how to really find cheap flights online? Check out skiplagged.com. They were so effective at exposing 'hidden city' flight discounts that United Airlines actually tried to sue them. But the courts backed skiplagged so feel free to check it out. This innovative search engine takes the unusual step of including a search for stopovers rather than just final destinations of flights, potentially saving you significantly in the process.
So if you're looking for a short city break, where you won't be checking in bags (because remember, you'll be exiting permanently before the final destination) then it's the perfect opportunity to source cheaper flights.
More Truth
If you're like me (having breakfast at lunch time) and always pressed for time, here is a tip for finding cheap flights quick!
Go to

Google Flights

Type in the search box "Europe", "Asia" or whichever continent you would like to go

Choose the month and then choose the "weekend" option
The result would be a list of places with the most convenient flight rate. I got Paris for €34!!! If you don't believe me here is the proof (I am in Dublin):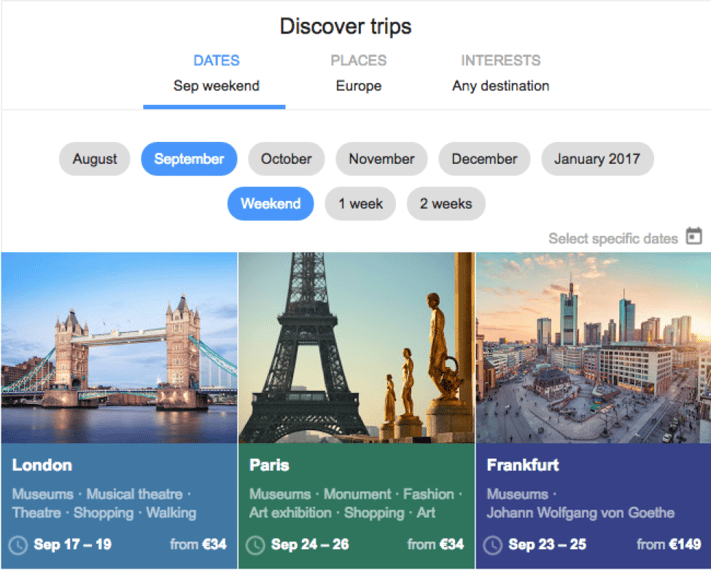 The backbone to this is ITA Software. This was developed in the mid-nineties by a group of MIT computer scientists. The results of their work was a revolutionary airfare pricing & shopping engine called QPX. On April, 2011, Google acquired ITA Software for $700 million, and shortly after launched Google Flight Search
Today, ITA technology continues to be used by some of the world's most successful travel companies. Here is a partial list of the companies using this software: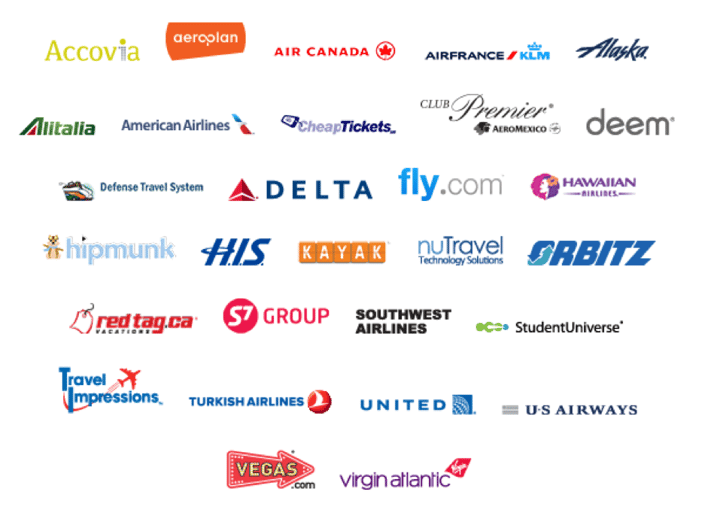 It might not as eye catching or user friendly than some search engines, but is a lot more flexible and sure will save you money when booking your tickets. I personally love that you can search nearby airports. Why are you still here? Go and check it out!
3. Use only ONE credit card for a Frequent Flyer/Mile Programme
Almost every credit card has a miles programme. Check out which of your credit cards has the most convenient one and only use this to book your flights. In no time you will have enough miles to fly for free. This might sound a little bit obvious, but now days most people have more than one credit card and it is easy to get confuse or even worse not knowing that you can get miles with your credit card.
3. Check for alternative airports
So you want to get from A to B? Grand so. But have you ever considered C? When you are travelling to one location always make sure to check nearby airports. It may well be the case that it makes no difference in terms of convenience and timings and transport to and from your hotel, and best of all, you might just bag a much cheaper flight.
ITA Software has a functionality that allow you to do that.
1. Type your destination and in the right side of the box a functionality called "nearby" will be enabled.
2. When you click in the nearby option you can choose within how many miles you want the search engine to find flights.
3. You could also pick specific airports that are nearby your destination.
4. The rest it obvious, fill out the information and you should get the results
4. Use rome2rio for inland travelling information
This is related with the tip before, you might be wondering how much extra would you have to pay to go to your destination? How long it will take? Or just how? I got your back covered, rome2rio is a great accumulator website that pulls in the world's transport information to help you organise your trips.
For example, a very commun trip is from Paris Beauvais-Tille airport to Porte Maillot in Paris City. After you have inserted the intended journey you will get a screen like this with all the needed information.
After you picked your preferred transportation you will get more details. For example, the frequency of the shuttle bus is every 20 min for this specific route. Job done.
5. Schedule wisely/find best day to book tickets
We have heard this probably a thousand time. "Book your tickets in advance!" "the longer the better!" Guess what… This is not necessarily true and we are going to back it up with data. A research done by ARC reports that the lowest-priced air tickets are purchased six weeks before the flight.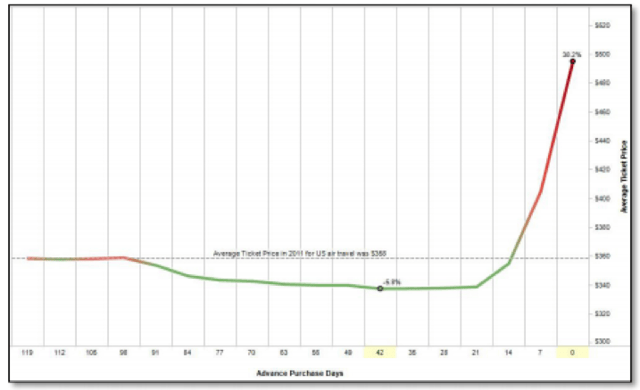 Another report made by Kayak shows some pretty good insights:
Don't book too early: the average domestic fare found six months before a departure date was 19% higher than the 21 days out low.

Travelers planning a weeklong domestic trip should depart on a Saturday and return on Monday to score the cheapest airfare (roughly 16% lower than average).

For international weeklong trips, we recommend departing on a Tuesday and returning on Wednesday to save some moolah! These flights were 21% lower than the average.
What about Tuesday or Saturday after midnight?...Just another urban myth I'm afraid. Every airline loads fares at different times of the day every day so it is hard to say that there is one time or one day that is better than another. Fares fluctuate based on the market conditions and the actual number of passengers who are booked on a specific flight. HOWEVER, many airlines tend to announce sales on Monday what push other airlines to match them the following day… yes, Tuesday, but this is not a hard fact.
Overall, this does not mean that there are not good deals available all the time but a good rule is to book tickets between 4-8 weeks in advance.
Start searching for more than 3 months in advance and monitor constantly the prices, daily if you can! It is good to set a maximum limit of how much are you willing to pay for the tickets.
If you know you are going and you can afford the price book it! Almost never the prices will go down the closer your flight is.
6. Flight Search Tracker Tool
Flight tracker is a tool that very few people use but it is incredible useful. Almost every flight search engine has one. Here's my favorite: Google Flights.
Here is the step-by-step:
1. Insert the the route and dates
2. Pick the most convenient flight that appears
3. When you have selected your flight a second screen with the flight details will appear.
4. You will have an option to track this specific flight. Turn it on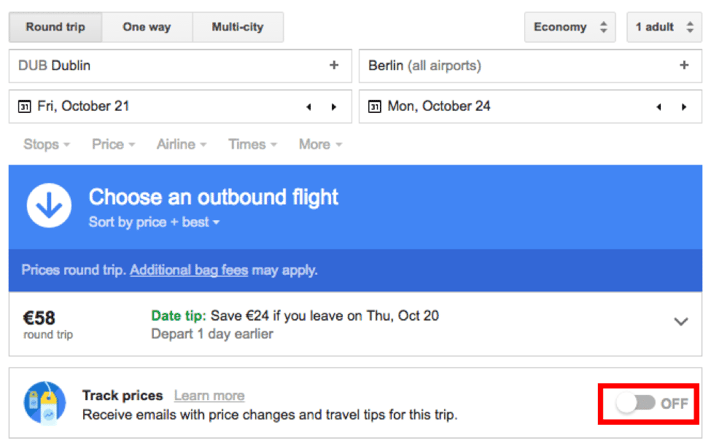 5. You will receive emails with price changes and travel tips. A quick tip for this tool - Track multiple airports in your place of destination and multiple dates.
6. To check your tracked flights, click on "flights" in the right up side of the screen. Then click on "Tracked Prices". You will have access to your saved flights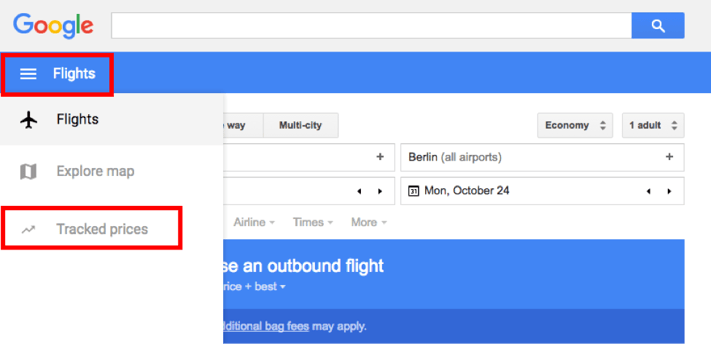 7. Luggage scale before/learn to pack like a boss
So you know your weight limits and you bought a suitcase that (just about) fits the maximum allowance of your carrier. Yet you're staring at your wardrobe and wondering how the hell are you supposed to fit all those pants, shirts, jean, jumpers, underwear, socks and all the other bits and bobs and creature comforts that you just HAVE to bring with. How do you do it without breaking any of the known laws of Physics? Easy, just follow the advice of this video and pack like a pro. With 10.5 million views you have probably seen it already. If not, grab some popcorn, press play and enjoy...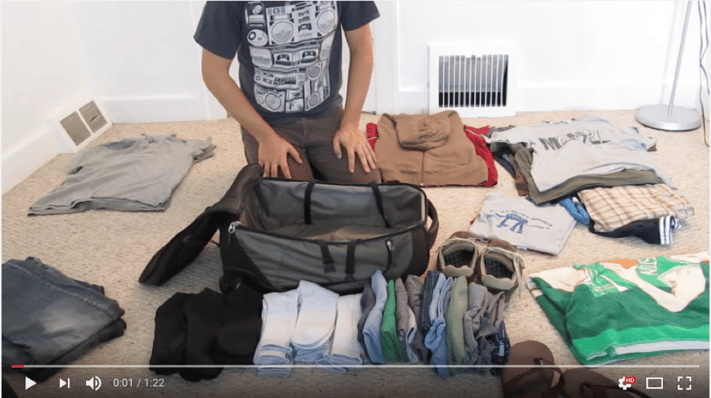 Onebag.com is a website dedicated to packing tips. The bundle wrapping is a good one for business travellers.
Weight your luggages before you go to the airport and don't be this guy
This inexpensive luggage scale can save you several euros.
If all of the above doesn't work and you still have overweight luggage - then ship it.
8. Keep your expenses organised
Stay in control and find an easy way to keep records of your expenses. Here are some of your options:
1. Download the Google Drive app into your phone
2. Create a folder with a name easy to relate. For example "San Francisco Travel Expenses"
3. Now every time you make an expense take a picture of the receipt
4. After you have the picture of the receipt on your phone go to to Google Drive app, open the file you created ("San Francisco Travel Expenses")
5. Press the blue plus (+) icon in the bottom right side and then upload
6. Then you will have the option to upload pictures
What is great is that you have the option to upload pictures in bulk. So let's say for example you do not have internet during the day or simply not enough time, you can upload all the pictures at once later when you are back in your hotel. It is very simple, free and you won't lose another receipt ever again.
If this method does not work for you or you prefer a more sophisticated way to do this here is a list of 6 aps that would help you to keep track of your business expenses:
8. Foreign Exchange Rates: Don't Get Robbed at the ATM
We're not talking about masked men skulking up behind you. Nor are we talking about electronic sabotage stripping your card of data. Nothing physical and no identity theft. We're just talking about you potentially handing over your money…in blissful ignorance. Here's the thing - when you're abroad, always choose the local currency option on any card transaction. ATMs, restaurants, whatever. That way you can avoid extra (~3%) foreign exchange fee. Foreign merchants generally charge a higher % conversion than your bank. Spend that 3% on a bottle of wine and some aftersun. Win win.
9. When renting a car pick it up in the airport
Some car rentals companies offer the option to pick up the cars in the airport and it is a lot cheaper. When booking your car find companies offering the airport as collection point. Here is another tip for you, if you or your company are renting cars constantly buy a portable GPS device, you will quickly recover the investment and will save you time and money on gasoline.
9. Carpool
Planning a road trip around Europe? Want to save money and help reduce traffic congestion and your carbon footprint? What if you don't even have a car but still want to get from A(msterdam) to Z(urich)? Try carpooling. Here's a link to a site that helps you find rides quickly and affordably. Although there are plenty of other apps that offer the same services. We chose ridefinder simply because it was top of Google's search results. And it must be there for a reason. If you are travelling to a conference check out on the event's website if they offer a free airport shuttle bus.
10. Book Travel Insurance Last Minute
Some things need plenty of time to plan and organise. You wouldn't just rock up to a random church and ask a local to get married, would you? Travel insurance on the other hand is best dealt with by ignoring it until the last minute.
Many credit cards provides travel insurance when you book the ticket with their credit card. In case you do not have a credit card that offers travel insurance, find the insurance that you want to purchase sign up on a website and provide your email and include the trip information but DO NOT PURCHASE. 24 hours to 7 days before your flight, they will offer you the same insurance at a discount.
Patience is a virtue it seems - who knew?
11. Get Passwords for Wifi (for FREE)
If you travel a lot, and use up lots of expensive roaming data charges, you could probably do with some free Wifi on your travels, yeah? Well next time you're close to cafes, restaurants, bars or other places with free wifi, check their comments section on FourSquare where you'll more than likely find their Wifi code. You don't even have to check-in, so you can maintain your privacy. Even better, download 4sqwifi.com on the App Store. It basically does this for you by integrating with the FourSquare API and its user-generated venue tips.
12. Focused City Guides
Find city guide focused on your needs. For example if you are travelling with your children, most likely there will be a guide for travellers with family. In case your are travelling for business go to our blog and check out the business travellers guides on Roomex.com. Written by natives of the cities in question and it is jam-packed with insights and city secrets on what business travellers should look for when new to a city. There are European and US cities versions.
13. Eat With a Local
Eatwith.com is basically Airbnb for foodies. When you travel to a foreign city, the chances are the only real interaction you get with the locals is typically taxi drivers or waiters or bar staff. And what's the point in going to some exotic place only to eat in a McDonald's or some other homogenised eatery. "Eat With" is your opportunity to really get to taste the culture with a homecooked meal and an interesting conversation.
14. Know how much to pay beforehand
thebasetrip.com is a hidden gem that I recently found on Reddit. Beside prices, you can find all the information you need while traveling including visa requirements, currency, electricity, communication info and more.

Check out our European city guides for top tips from locals at your destination. (Doing so might even save you a Euro or two!)