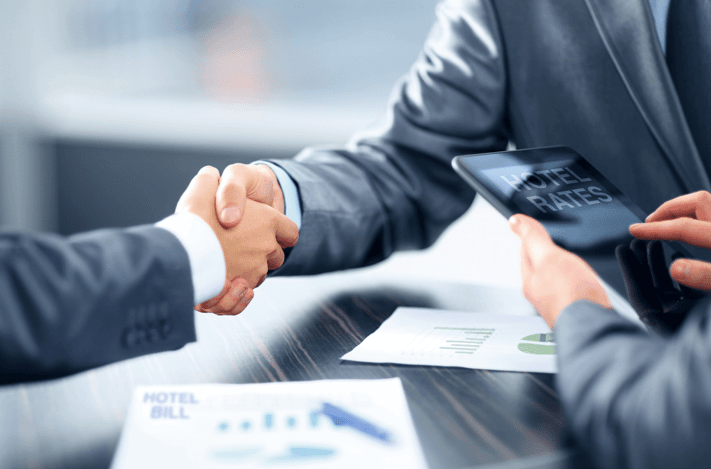 Economies of scale state the more you buy of something, the more you save on each individual unit. The same principle can be applied when block booking hotel rooms, particularly when those numbers run to hundreds, even thousands, annually.
With a plethora of online travel agents (OTAs) and a melee of options (specifically hotel or chain specific online booking engines) all offering last-minute discounts, the question for travel managers is simple: is your company spending over the odds for business travel accommodation?
While there are perceived benefits of setting up contractual agreements with a particular hotel chain, the discerning travel booker won't have failed to notice the fluctuating (or often the downright divergence of) rates advertised across hotel websites and booking engines.
Often the tariffs prominently displayed on websites - and commonly 'slashed' on online booking engines - are what the industry refers to as the hotel's 'rack rate' (also called 'Best Available Rate'.) The Best Available Rate both validates the room's worth and also acts as a hotel revenue strategy, a benchmark against which discounts can be calculated. It is the highest possible price that you can expect to pay for a hotel room of a certain calibre at peak season.
'Quite often, "Best Available Rate" isn't the best available rate', wrote Michael Forrest Jones of US-based travel startup, Beechmont Hotels Corporation, on Quora. 'The term is a misnomer bordering on misrepresentation. Think of the "Best Available Rate" as the "Best Rate You're Going To Get Out Of Me Unless I Can Think Of A Really Good Reason To Give You A Better One" rate'.
There are obvious advantages of entering into a contract, block booking, for example, 350 rooms, with a hotel chain for several company conferences and executive meetings per year. Most hotels will be only too delighted to offer a discount on the Best Available Rate in order to keep you sweet and ensure you don't take a big slice of potential revenue for a sleepover at the nearest competitor.
However, picture the scene: ten of your executive team are off to a mid-week industry conference in Birmingham – you made the travel arrangements months ago and, as per the formalised agreement with the hotel, your company is obtaining 15% discount on each of the ten rooms. Out of curiosity, you type the details of said hotel and location into a popular online booking site; lo-and-behold, in all its red-emboldened-text glory, the same room is on offer at 25% less than the rack rate (a further 10% on your 'special' rate - so much for corporate loyalty!)
Of course, the story could have been the other way round – where the price had shot up and you ended up paying less – but amid a landscape of fluctuating rates is there any way of guaranteeing whether you'll be discounted rather than duped?
There is another option which is guaranteed to save you time trawling the internet, negotiating contracts and a myriad of laborious tasks. It will also save money and deliver on a quality hotel experience.
Look no further than Roomex.
Roomex has partnerships with 35 booking agents and contact with over half a million hotels globally – we've been there and done it with the contracts so you don't have to. We can advise you on the best rates on an ad hoc basis. Need a hotel with a conference room or facilities to meet clients? No problem. Perhaps your employee is flying Economy Plus so you can afford to spend a little more on a more luxurious hotel option? We'll sort that for you. Talk to us about how we can help you do business travel bookings, better.
Discover why the likes of Car Trawler, Allianz and many others have moved their corporate hotel booking with us when you book a free online demo here.