As the de facto capital of the EU and home to its three main institutions, Brussels is a major international political hub. It's also a leading destination for corporate events, with tens of conferences, seminars and public forums taking place across the city each month.
But while Brussels is best known - and, let's face it, hugely influential - in the political and business spheres, that's really only a small part of what it has to offer.
Dig deep enough, and you'll find a friendly, cosmopolitan city with beautiful architecture and lots of old world charm. Mix in Belgium's world-famous beer, chocolate and waffles, and your business trip can take on a whole new appeal.
Heading to Brussels for a conference or a spot of wheeling and dealing? Here's what you need to know.
Getting There
Your next step after landing at Brussels Airport will depend on the reason for your visit. Brussels' main business district, the Northern Quarter (or Quartier Nord in French) is located, as the name suggests, just north of the city centre. If you're in Brussels on EU-related business, however, you're probably headed to the European quarter, which is located southeast of the city centre.
The Northern Quarter
Straddling the districts of Saint-Josse-ten-Noode, Schaerbeek and the City proper, the Northern Quarter is home to some of the tallest buildings in Belgium, including the Finance Tower and the Rogier Tower. Several popular conference centres, such as Area 42, the Diamant and the Hilton Hotel, are also close by.
The train is the fastest and most cost-effective way to reach the Northern Quarter from Brussels Airport. The district is served by the Brussels-North railway station (Gare Du Nord). Just catch the train from the airport at level -1 and you'll be in the heart of the Northern Quarter in about fifteen minutes.
Trains leave the airport approximately every five to ten minutes, starting from 4:40am until about 12:15am. A ticket costs €8.60.
The European Quarter
Brussels' European Quarter, formerly known as the Leopold Quarter, is home to several EU institutions, including the European Commission - housed in the iconic Berlaymont building - the European Parliament and the European Council. It also houses several embassies, thousands of administrative offices and well-known conference centres such as the Albert Borschette Congress Centre.
As one of the most frequent destinations for business travellers to Brussels, the airport is very well connected to the European Quarter. The fastest and easiest way to reach it is via train. Go down to level -1 and catch line 12 to Schuman. The train hits all the most important stops and reaches Schuman station in about thirty minutes. Trains depart every five to ten minutes, from about 4:40am to 12:15 am.
Catching A Taxi
If you'd rather catch a taxi, you can do so at the permanent taxi stand just outside the main airport terminal. Whether you're headed to the Northern Quarter or the European Quarter, the journey should take around twenty minutes, depending on traffic, and will set you back about €40.
Licensed taxis don't have to look a certain way; and may be any model car in any colour. However, they do need to have a yellow and blue licence sticker and a sign on the roof that says taxi. Treat cars missing these identifying marks with suspicion, as they may be unscrupulous individuals who will overcharge you for their service.
Getting Around
If you're staying close to the city centre, walking is probably the best way to get around. At approximately 162 square kilometres, Brussels is rather compact; and most of its main areas are within easy reach of each other. The Northern Quarter is quite small, and a mere twenty minute walk away from Grand Place, Brussels' main square and a UNESCO World Heritage site.
The European Quarter, however, is a bit further afield; and nothing much goes on after office hours. If you're in the mood for some sightseeing or even a bite to eat after a day of meetings, your best bet is to catch public transport and travel closer to the city centre.
Brussels is served by an excellent network of buses, trams and an underground system (called the metro). Trams and the metro are the fastest and most convenient ways to get around.
Single tickets cost €2 for one hour, meaning you can catch as many buses, trams or subway trains as you like within that time limit. You can also buy a day ticket for €6. Transport works from 6:00am until 11:00pm.
Don't forget to validate your ticket before you board, as otherwise you may risk being fined €55. You'll also need to press the button on metro and tram doors, as these don't open automatically.
The best ways to reach the Northern Quarter by public transport from other parts of the city are via tram numbers 3 and 4, which stop at the Gare Du Nord, or metro lines 2 or 6 (stop at Rogier or Yser).
The European Quarter is best reached via the metro. Lines one and five both stop at the European Quarter's two major stops: Schuman and Luxembourg Square (Maelbeek stop).
Whilst they are certainly quaint and charming, the narrow streets that encircle Brussels' city centre are a nightmare to navigate by car. Traffic on the main thoroughfares can also get rather chaotic, especially during rush hour, so you should avoid driving at all costs.
Local Treats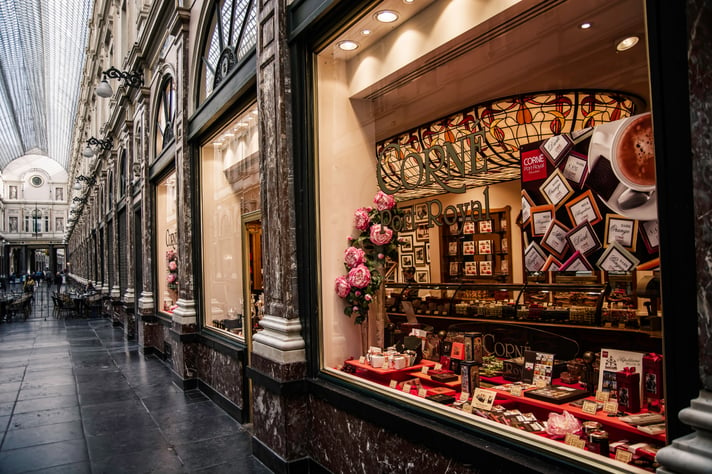 As a country with a rich beer-brewing heritage, having a beer or two is essential if you want a truly Belgian experience. Craft beer bars dot the city, most of them sporting impressive selections and also serving traditional local fare.
Bier Circus (a short walk from the Northern Quarter) and Moedoer Lambic (19 minutes away on tram 4), are very popular with the locals, and serve some excellent entrecôte (rib-eye steak) too. Follow that up with some traditional Belgian waffles or Godiva chocolates for a truly satisfying dinner. Do be careful though, as Belgian beer tends to be quite strong! But Brussels is more than just steak, beer and waffles.
Have a cocktail and swing the night away to some jazz at the impressive art deco L'Archduc, or show off your dance moves at Fuse, a former cinema turned into one of the hottest nightclubs in Brussels.
Burn Off Those Extra Calories
If you've eaten too much, don't despair. As one of the greenest cities in Europe, Brussels is a great place to go for a run or even just a brisk walk. The Royal Park, located just off Grand Place, and the Cinquantenaire, located in the heart of the European Quarter, are both very popular with joggers.
The Cinquantenaire even has an outdoor gym you can use for free, complete with crossfit and ab machines. But if you'd rather work out indoors, you won't have to look too far. There are hundreds of gyms in Brussels, many of which you can use on a pay as you go basis.
There's a gym at the Hilton Hotel in the Northern Quarter, and also an excellent yoga studio called Yyoga, which is open every day except Mondays. In the European Quarter, you'll find the Aspiria Club and the Corpus Studios, an all pilates club.
Retail Therapy
Whether you like to shop on the high street or have more discerning tastes, you're bound to find what you're looking for in Brussels.
The Rue Neuve, a brisk ten-minute walk away from the Gare Du Nord, sports miles of well-known high street brands side by side, including Esprit, Celio, Zara and Mango, just to name a few.
If you're looking for something more upmarket, though, the Boulevard de Waterloo and adjacent Avenue Louise and Rue du Namur are just a twenty minute metro ride away (catch line 2 or line 6 and stop at Porte de Namur). The shop windows are resplendent with displays from all the best known designers, and also with wares from local ones.
Brussels is also home to some of the oldest shopping arcades in Europe, including the Galerie St Hubert and the unassuming (and lesser known) Galerie Agora. These arcades are worth a visit just to admire their architecture.
Off The Beaten Track
If you have some time on your hands before you catch your flight back home, a visit to the Belgian Comic Strip Centre is well worth it. Located a mere fifteen minute walk away from the Northern Quarter, it's a treasure trove of Belgium's rich comic history - from internationally known figures such as Tintin and the Smurfs to exhibitions by contemporary artists.
Right, that's your itinerary covered. Now for all your business hotel booking needs, Roomex has you covered. No costs, no fees, no contracts, it's a no-brainer. Request a demo to see why it's so popular with Office Managers and Personal Assistants.

Looking for the inside track on all of Europe's highlights? Download our Ultimate European City Guide for Business Travellers below. We've covered all the main business capitals and we're adding a new city every week. If you know someone who travels a lot on business, download it below for free and share it with them!