If your business travels send you to Rome, thank the Pope, thank the gods - thank whomever - because you are in for a cultural feast such as few cities can boast. Paris? Un petit peu. London? Tip top. But Rome? Fasten your seatbelts because you are in for a rollicking good ride after your business is done for the day.
As the capital city of Italy, Rome hosts all the principal political and economic institutions of the country, and is also a major EU and international financial, cultural and business centre. A large proportion of international companies, government ministries and conference centres are located in Rome's principal business districts, including the Esposizione Universale Roma (EUR); the Torrino; and the Magliana.
Here's what you need to know, where to go, the downtown, the lowdown and the proverbial skivvy!
Getting from the airport to the city centre
Rome has two airports - Fiumicino (Leonardo da Vinci) and Ciampino. Unless you are on a charter or low budget airline, you will be traveling into and out of Fiumicino. It lies 16 miles southwest of Rome and is linked to the city centre by an express train and road.
Trains from Termini depart from track 24 and the ultramodern train Leonardo Express covers the distance in 30 minutes. Tickets costs 11 euros and are available at the counter as well as the Termini news stand. The distinctive white taxi cabs wait outside the passenger stations and offer fixed fares from city centre to Fiumicino and vice-versa, costing 40 euros. For other destinations, fares are not fixed. Fee for luggage is around 1 euro each.
Find additional transportation information options, from scooter rentals, taxis, buses and more from the airport here.
Getting Around Rome
Rome is a sprawling beast of a city but it's surprisingly well connected and after an espresso, not too difficult to manoeuver. The historic centre is not particularly large (only 2.5 km/1.5 miles from the Colosseum to Piazza di Spagna) and so is easy to visit on foot, as most monuments are to be found in the same area. It's a good idea to plan your day ahead with colleagues and the hotel concierge because unlike most other major European cities, the majority of Romans do not speak English and you may find yourself lost and unable to get directions you understand. And before you ask, yes, there's an App for that! Download here. Most of the features are free and you don't need a WiFi connection to use it.
This city was made for walking! Be sure to wear comfortable walking shoes because many of the streets are made of cobblestones and hard on the feet. Many locals get around on mopeds; executives in suits maneuver through traffic while talking on a cell phone and puffing on a cigarette. Fortunately, there are safer and easier ways to get around the city.
Public transportation
If you're planning to really do like the Romans and see the city, you can buy a Roma Pass online and benefit from various discounts and services that make it easier and cheaper to enjoy this wondrous city.
Otherwise, public transportation tickets must be purchased in advance from tabacchis, newsstands, bars, or vending machines (exact change only!) at metro and major bus stops.
Rome's bus network is extensive and functions quite well, but the metro (subway) is much simpler to master for the short-term visitor.
The Roman metro (called Metropolitana by locals) goes around rather than through the historic city. It has only two lines, A (red) and B (blue), which cross at Termini Central Station.
Trains run approximately every 7-10 minutes, from 5:30am until 11.30pm every day (until 0:30am on Saturdays).
Buses and Trams
There are hundreds of bus lines, running from 5:30am until midnight. All buses and trams travel in both directions and this is how the vast majority of commuters get to work, so skip the taxis and join the fray.
For lines tables and public transport maps visit the official site of public transportation in Rome - ATAC S.p.A
Night Buses
Over 20 night bus lines run from 00:30am to 5:30am. The main terminal stations are Termini (Piazza dei Cinquecento) and Piazza Venezia. From these two piazzas, buses leave for all directions every 30 minutes. Night bus stops are marked with an owl and you can purchase tickets on board. Word of warning: as a tourist, in general, particularly in a major city like Rome, it is never a good idea to take the bus at night. It's always better to be safe than sorry, so if you are planning a night out, speak to your concierge (or the front desk clerk, or doorman) before you head out to make plans on how you will get back to your hotel at the end of your evening. You don't want to be stumbling around late at night after several glasses of vino searching for a bus…you just don't. Capiche?
Local Eateries and Bar Hotspots
The dining in Rome is utterly staggering to the human palate. Where to even begin? Popular with politicians of every stripe, Fortunato al Pantheon features classic Roman dishes served in wood-paneled dining rooms, or on a terrace, with breathtaking views of the Pantheon. If you have colleagues to impress, call +39 06 679 2788 and make reservations today!
You can certainly get caught up in the touristy traps and they are easy to find and plentiful. As a general rule, the eateries located where tourist congregate (the Vatican, the Coliseum as a few examples) tend to be much more pricey than those slightly away from the action.
For Neapolitan style pizza, check out Tonda, Sforno and La Gatta Mangiona; Da Remo and Pizzeria Ostiense serve the quintessential thin crust Roman pie. Craving pizza by the slice? Try Pizzarium or Prelibato or pizza bianca at Antico Forno Roscioli. The pizza rossa at Forno Campo de' Fiori is molti bene! And a tasty little pizzette is offered at Da Artenio in the Mercato di Testaccio.
If you are looking for reasonably priced traditional cucina romana, Armando al Pantheon and Cesare al Casaletto are your best bets. And for fab food at fab prices featuring Roman/Umbrian/Sardinian specialties, plus pizza, Tavernaccia Da Bruno is the place to go.
Just published (May 16, 2016) at Conde Nast Traveler, writer Alyssa Shelasky has served us The Best Restaurants in Rome Tourists Don't Know About. She has done all the leg (and eating) work for us, so, mangia mangia beve beve! (eat eat drink drink!)
You can't leave Italy without trying the gelato. Gelato gems include Il Gelato di Claudio Torce', Gori, Carapina, Fatamorgana, Fior di Luna, Al Settimo Gelo, and Gelateria dei Gracchi. All worth checking out.
Evening Entertainment
In Rome (as in most European centres), dinner is served later in the evening than in North America (after 8pm typically), so after a divine meal in the city of gastronomic delight, there are many options for evening entertainment. In general, it's perfectly appropriate to part company with colleagues after dinner, or go out together as a group. Consider the pecking order (do you really want to go dancing with your boss?), the next day's business and the overall comfort level of your party.
You can consider the spectacular opera house (teatro dell'Opera) and a moderate number of smaller theatres. Add into the mix nightclubs, bars, literary cafes, football matches, and you'll have your work cut out for you choosing your evening's entertainment.
You don't have to spend all your Euros either. The Roman's favourite evening activity is called the passeggiata and consists of a leisurely stroll around the streets, people-watching, greeting acquaintances, pausing for a drink or a gelato. Evenings in Rome are geared towards the outdoors. A long drink outside a bar on one of the quaint medieval streets in the centre is one of the most pleasant and inexpensive experiences Rome has to offer.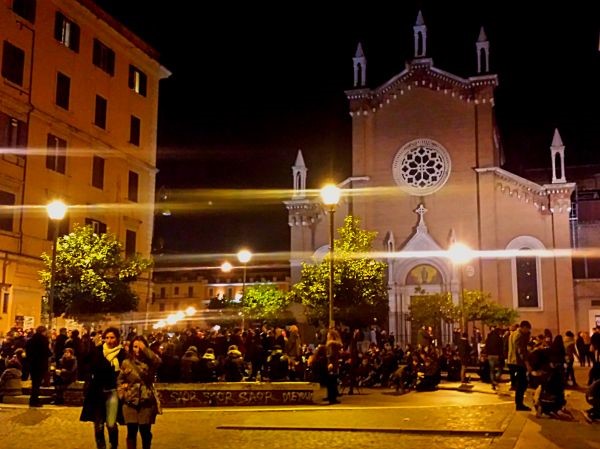 If you are looking for a little more excitement, head to Campo dei Fiori near Piazza Navona where you will find numerous pubs, many of them American style, where you can have fun and make new friends with both tourists and locals alike. For more local flavour, check the Vineria where you might even steal a glimpse of a famous Italian actor or soccer player. Less crowded but a bit livelier is Nolano just down the block.
Are you still looking for that famous soccer player? Check out Gilda, near the Spanish Steps. In this area, disco dancing dominates the scene.
A very popular (and crowded) neighbourhood that is a sure bet for less-than-touristy nightlife is Testaccio, along via dei Monte Testaccio. Here you will find Italian discos, restaurants and clubs with music from house music to live jamming.
Not far from Testaccio is the nouveau super hip neighbourhood of Ostiense area where there is a train station adjoining some of the best new clubs on the night scene. Check out Goa where international guest DJ's mix house & techno tunes. Former factory Classico Village is super-hip and consists of three rooms, often offering three different acts simultaneously. Here you can dine and dance on two dance floors for a complete night of entertainment.
For the Health and Fitness Conscious
It might seem an oxymoron, but you can have fun in Rome and stay healthy. If walking is part of your usual routine, the Eternal City is ideal if you wear comfy shoes. However, if you've been enjoying the pasta and vino just a bit too much (and I hope you have!), you may need to take your workout to the next level.
If you want to run through this divine city, mapmyrun.com offers hundreds of running routes with maps, elevations and distances.
Gym facilities that offer day passes and discounts to visitors:
Dabliu Barberini is close to the Trevi Fountain and metro station Barberini Fontana di Trevi.
Dabliu Margherita Fitness Club is located in the heart of Rome and offers state-of-the-art gym equipment, a dedicated weights area and a separate aerobics and karate room.
Retail Therapy
The names of Italy's finest designers stand beside independent boutiques and market stalls as shopping in Rome caters to every budget. Check out Via (via means street) Condotti and the Spanish Steps for designer central, including Prada, Armani and Gucci. Via Cola di Rienz is a busy shopping street just behind Castle St. Angelo and home to mid-price shops with a mix of designer boutiques and high street chains. Via Veneto is one of the most famous, elegant and shopping districts and streets in Rome. Be sure to stop at Harry's Bar for a Campari and soda and enjoy it al fresco watching the chic passersby.

The tradition of the Roman open market goes back to at least the Third Century B.C., when the Marcellum market was located at the north end of the Fori Romani. Ask your hotel concierge for suggestions and here is a more complete list. Don't miss the Porto Portese Flea Market held every Sunday morning. This is the largest market in Rome and the place to come for a bargain. The market offers a great selection of second hand and new goods, food, antiques, and general bric-a-brac. Plan on at least half a day to get there and browse the endless rows of stalls.
Fancy Something a Bit Different?
For alternative Rome, walk around the San Lorenzo district. This bohemian district, just to the south-east of Stazione Termini is packed with cheap eateries, lefty-leaning bars and boutique shops. You'll find it a refreshing change from the tourist areas and it's also the home of the best chocolate in Rome – the chocolate factory at www.said.it. Magnifico!
Right, that's your itinerary covered. Now for all your business hotel booking needs, Roomex has you covered. No costs, no fees, no contracts, it's a no-brainer. Request a demo to see why it's so popular with Office Managers and Personal Assistants.
Looking for the inside track on all of Europe's highlights? Download our Ultimate European City Guide for Business Travellers below. We've covered all the main business capitals and we're adding a new city every week. If you know someone who travels a lot on business, download it below for free and share it with them!